Dealers/Salons
Salon Owners
As a hair stylist, your clients have probably told you about their fear and frustration over thinning hair, imagine their surprise and enthusiasm when you are able to offer your clients a brilliant non surgical solution to their thinning hair. When you tell them that it takes just moments to accomplish thicker hair and it comes in 10 natural shades to match most hair colours, they will be ecstatic, Hairfor2 from Lilywhite Cosmetics Inc. is just the right solution!
Most of your clients are hoping you can work miracles with their thinning hair and now you can.
You can earn their eternal gratitude and respect with the next best thing: the quick and easy cosmetic solution from Hairfor2!
See just how easy it is to have thicker hair in moments.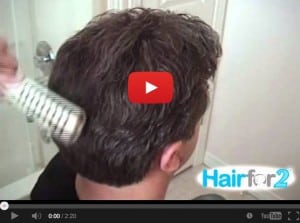 What is Hairfor2?
Hairfor2 is an aerosol hair thickener that:
Instantly gives men and women the appearance of thicker, fuller hair
It is water resistant so it even stays in place in humid or moist conditions (rain).
Is available in 10 natural colour nuances to match most hair colours.

Makes your clients look and feel more confident
Makes you money because it is a consumable, repeat purchase product
Your clients will Love Hairfor2 – and You for helping them discover it!
We also offer a Salon Locator on this site that you will be eligible to add your business too including contact information, and map to your location.
You can offer your clients these fine products
Hairfor2 Hair Thickener
Volluma Hair Spray
and Hairfor2 Clarifying Shampoo
Contact Lilywhite Cosmetics Inc. for more details and offers.
26 Zeffer Place
Kitchener, Ontario,
Canada, N2A 3Y8
Phone: (226) 646-3320
email:info@hairfor2.ca
Distributors/Dealers
There Are Still Distributor Spots Available
If you are a Distributor or Dealer and you already sell Salon products to Stylists then this is a perfect opportunity to increase your revenue stream by offering them a very unique Salon Professional Product line to use and sell in their salons.
Hairfor2 Hair Thickener
Volluma Hair Spray
and Hairfor2 Clarifying Shampoo
Contact Lilywhite Cosmetics Inc. for more details and offers.
26 Zeffer Place
Kitchener, Ontario,
Canada, N2A 3Y8
Phone: (226) 646-3320
email:info@hairfor2.ca